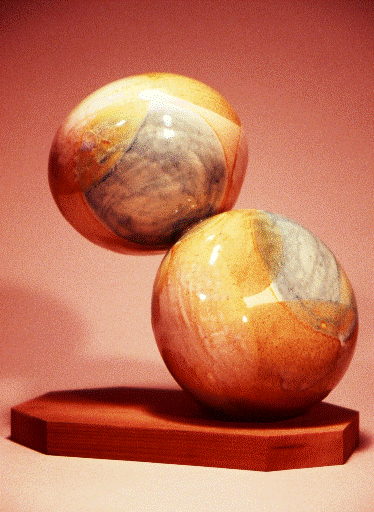 My passion for clay as a medium of expression is due to it being challenging, dynamic, and the way its unpredictability echoes life.
It's like magic, the way clay can be formed from an organic lump of mud into beautifully, useful art.

My favorite ceramic forms to create are large forms and sculptures made from thrown closed forms. The majority of the paintings are acryclic and inspired by nature. Some of the paintings are oils and watercolors. When possible, I enjoy "plein air" painting which is outside painting nature as you see it. Currently, the clay used is a combination of stoneware and porcelain that are fired to cone 6 in oxidation.

Many times I remind students to relax and breathe while they are working at the potter's wheel. When they do, the process comes more easily as they let go and work with the clay. Life is like that… trying to force something to happen rarely is as successful as when we let go, relax, breathe and acknowledge the present moment. Similarly, when painting, we must relax into the work and step back from it.

My fine art studies began in 1983 at Pitzer College in Claremont, CA. These studies included training under ceramic artists such as: Paul Soldner, David Furman, Brian Ransom, Rodney Mott and various visiting artists.

By attending workshops, I learn from other artists and am challenged by new ideas. I am dedicated to improving my skills both in creating art and teaching art. I welcome networking with other artists and am a member of the NJ Potter's Guild and Artists in the Parks (AiP). I am a full-time artist teaching art classes from painting & drawing to sculpture & pottery to both children and adults in Chestnut Ridge, NY.

The ceramic artwork and paintings are sold through art shows, galleries, retail stores, etsy.com, fineartamerica.com, and the potterypeace art studio.


Please do come visit potterypeace in Chestnut Ridge, NY just over the Bergen County NJ border in Rockland County NY.
Come find unique gifts of art and enroll in personalized art classes in pottery & sculpture, as well as, painting & drawing.