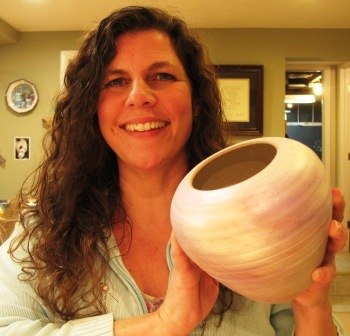 Wendy Lee Morris has her BA in Fine Arts and Psychology from Pitzer College in Claremont, CA where she graduated in 1987. Her fine art studies included training under well-known ceramic artists such as: Paul Soldner, David Furman, Brian Ransom, Rodney Mott and various visiting artists. Many of them have their work on display in galleries and museums. This eclectic instruction gave Wendy a broad spectrum of approaches to creating art.

Attending workshops whenever possible invigorates fresh perspectives and the ability to learn from other artists and be challenged by new ideas.

Wendy is a full-time artist who also teaches pottery, sculpture, painting & drawing to children and adults at the potterypeace art studio in Chestnut Ridge, NY. She sells her work at shows, galleries, on-line, retail stores, and the potterypeace art studio. Wendy's work has shown at various juried shows including Lincoln Center Art Show in New York City and Westhampton Art Show in Long Island.